How to Choose the Best eCommerce Platform
June 21, 2023
Posted by:

Vijay Golani

Category:

eCommerce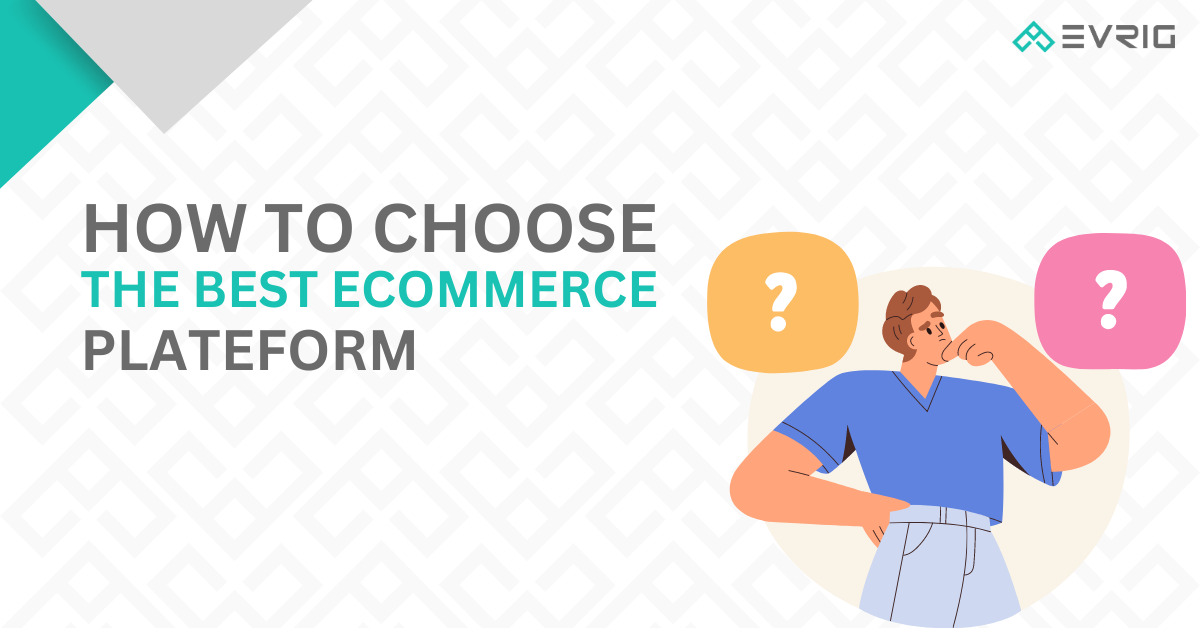 In the digital era, the online presence of small businesses can significantly impact their success. For entrepreneurs selling physical goods, utilising an eCommerce platform can be the ideal solution to boost sales. Although numerous eCommerce solutions are available, not all are suitable for every business. Before selecting the best eCommerce platform that aligns with your business requirements, it's crucial to consider several factors. If your aim is to effectively sell products through a website, it's essential to explore eCommerce platforms that can support your business objectives and facilitate company growth. An eCommerce platform comprises a range of tools designed to assist businesses in selling their products online. With various platform options available, it's important to be well-informed before making a decision for your business.
Benefits of Utilising an eCommerce Platform
Utilising an eCommerce platform enables you to establish an online store where you can sell products to customers. These platforms facilitate the creation of a digital storefront on the internet and streamline the process of accepting payments. By leveraging an eCommerce platform, you can expand your business by reaching a broader audience without the need for additional staff or physical space. These platforms cater to businesses of all sizes and often offer specialised solutions for specific product types or industries. With a comprehensive eCommerce platform, you can centralise various aspects of your business, including inventory management, customer relationships, and order processing.
While there are multiple methods to create an online storefront, employing an eCommerce platform offers several advantages for your business. It eliminates the requirement for extensive knowledge in web development or marketing to establish an online presence for your products. Instead, the platform simplifies the process, allowing you to quickly and effortlessly showcase your products online. Additionally, utilising an eCommerce platform can save you considerable time and money.
Classifications of eCommerce
Various methods of categorising and labelling eCommerce business models exist, but there is a general consensus on the following types of businesses that exist in the eCommerce landscape.
B2B (Business to Business): In this model, businesses sell products or services directly to other businesses.

B2C (Business to Consumer): This model involves businesses selling products or services directly to individual consumers.

B2G (Business to Government): This model involves businesses selling products or services directly to governmental organisations or agencies.

C2C (Consumer to Consumer): In this model, individual consumers sell products or services directly to other consumers through online platforms.

C2B (Consumer to Business): This model involves individual consumers providing products or services to businesses.

B2B2C (Business to Business to Consumer): This model combines elements of both B2B and B2C, where businesses sell products or services to other businesses, which are then resold to end consumers.
In addition to the previously mentioned categories, two newer terms have emerged in the eCommerce landscape: m-commerce (mobile commerce) and Social Commerce (eCommerce conducted through social media platforms). These categories represent the most commonly used terms and classifications in eCommerce.
To differentiate between the types of eCommerce, B2B refers to online transactions between two businesses, while B2C involves the sale of goods or services from a business to individual consumers. C2C eCommerce occurs when consumers sell directly to other consumers through an intermediary like eBay. On the other hand, C2B transactions involve consumers selling products or services to businesses, such as selling handmade goods on platforms like Etsy. Social Commerce encompasses any type of commerce conducted through social media platforms like Facebook and Twitter. Lastly, m-commerce specifically refers to eCommerce conducted through mobile devices such as smartphones and tablets.
It's worth noting that eCommerce can be conducted through various electronic devices, not exclusively limited to mobile devices. Transactions can also take place on desktop computers, laptops, and even televisions. However, the term "eCommerce" is commonly associated with online transactions conducted via the internet.
When considering starting an eCommerce business, choosing the right platform is crucial. Researching and selecting an appropriate eCommerce platform tailored to your business needs is essential. Once the platform is chosen, setting up the store involves tasks like adding products, creating pages, and configuring payment and shipping options.
Although starting an eCommerce business may appear daunting, with careful planning and effort, you can successfully launch and establish your online store in a relatively short period.
How to Choose the Best eCommerce Platform
Essential Prerequisites for Establishing an eCommerce Business
To initiate an eCommerce business, there are several essential steps to undertake:
Firstly, determine your preferred business model and establish your goals for the eCommerce venture.

Next, select an appropriate eCommerce platform that suits your business requirements.

Proceed by setting up your online store, which involves adding products and creating pages to showcase your offerings.

Finally, configure the payment and shipping options to ensure a smooth transaction process.
By following these fundamental steps, you can lay the foundation for a thriving eCommerce business. The online realm offers vast opportunities to reach a broad audience of potential customers, with numerous platform options available. However, it is crucial to conduct thorough research to choose the optimal platform that aligns with your business needs. Once you have selected a platform, the store setup process is relatively straightforward, encompassing tasks such as product addition, page creation, search engine optimization (SEO) content development (such as blogs), customer support setup, and the configuration of payment and shipping options.
If you prefer to focus on your core business activities, Evrig Solutions can assist you in handling all of these aspects, allowing you to concentrate on what you do best. 
What is the Budget Allocation for Your Project?
The initial step in exploring eCommerce platforms is to determine and establish your financial allocation or budget. Without a clear understanding of your spending limit, it may be challenging to find a platform that aligns with both your requirements and budgetary constraints. eCommerce platforms come with varying price ranges, contingent upon the features and functionalities you seek. It is also essential to consider the long-term investment required. Many platforms offer monthly subscription plans, which can accumulate significant costs over time. To minimise expenses in the long run, you can explore platforms that offer one-time payments or annual fees. Similar to other aspects of business, the cost of eCommerce platforms often correlates with the features and support provided. If you have a limited budget, you might need to compromise on certain features or support to find a platform that suits your needs. Conversely, investing in a more expensive platform generally grants access to enhanced features and superior support.
Assessing Your Business Requirements
After establishing your budget, the next step is to identify and evaluate your specific business requirements. Choosing an appropriate eCommerce platform entails considering various factors, such as the nature of your products, the desired scale of inventory listings, customer service expectations, and more. It is crucial to assess which features hold the utmost significance for your business. For instance, if your business is in its early stages, opting for a platform equipped with marketing tools can aid in expanding your customer base. In the case of offering a diverse range of products, selecting an eCommerce platform that supports the simultaneous listing of numerous items becomes essential. Conversely, if your product selection is more limited, a platform allowing a smaller number of items may suffice.
Identifying Your Business Goals
Before considering an eCommerce platform, it is crucial to have a clear understanding of your business goals. The platform can serve as a catalyst in expanding your reach to a broader audience, streamlining sales processes, and enhancing customer satisfaction. To effectively select a suitable eCommerce platform, it is essential to identify your specific business objectives. Are you aiming to establish an online product sales channel? Do you prioritise enhancing customer support services? Are you seeking a solution that can facilitate the scalable growth of your business? Once you have defined your goals, it becomes simpler to find an eCommerce platform that aligns with your aspirations and can support their achievement.
Different Varieties of eCommerce Platforms
A wide variety of eCommerce platforms are accessible in the market, each offering distinct features and functionalities. These platforms can be categorised into specialised platforms designed for specific niches and general platforms suitable for a broader range of businesses.
1. Hybrid eCommerce platforms: Hybrid eCommerce platforms combine elements of both hosted and self-hosted solutions. They provide a mix of hosted features and functionalities while allowing you to self-host certain aspects of your business.
2. Multichannel eCommerce platforms: Multichannel eCommerce platforms enable businesses to sell their products through various sales channels, encompassing both online and offline channels. These platforms facilitate selling across multiple channels to reach a broader customer base.
Key Attributes to Seek in an eCommerce Platform
Customer Relationship Management:

It is important to choose an eCommerce platform that enables seamless customer management and provides various channels for customer interaction. The platform should support payment acceptance, order tracking, and customer service issue resolution.

Pricing:

The chosen eCommerce platform should offer pricing plans that align with your budget and business requirements. Exploring multiple platforms may also allow you to negotiate a favourable deal.

Inventory Management:

The eCommerce platform should provide a user-friendly inventory management system, allowing your team to upload product details such as photos, descriptions, specifications, variations, and pricing.

Blogging Capabilities:

A reputable eCommerce platform should provide space for creating pages and blogs, empowering your team to promote your business and drive traffic through effective SEO strategies.

Personalised URL:

The eCommerce platform should allow you to use your preferred domain name, ensuring it aligns with your business branding.

Customer Reviews:

An invaluable feature for your eCommerce store is the ability for customers to leave reviews on products and services. Positive reviews establish trust and influence potential customers' purchasing decisions.

Coupons:

An essential aspect of an eCommerce store is the ability to offer coupons for products and services. Displaying coupons on landing pages and ensuring easy access for customers encourages them to take advantage of your enticing deals.
Evaluating Costs and Return on Investment (ROI)
Before selecting an eCommerce platform, it is crucial to assess the associated costs. While it's important to avoid platforms that exceed their value, considering the long-term expenses is essential. Evaluating the total cost of ownership and long-term costs of each platform is advisable. When exploring eCommerce platforms, it's essential to analyse both the usage costs and potential return on investment. Calculating the platform's profitability over time in comparison to the costs is necessary. Additionally, factoring in future expenses like platform upgrades or switches and payment processor transitions is recommended.
What Options Exist for eCommerce Platforms?
With a plethora of choices available, selecting an eCommerce platform can be a daunting task. However, Evrig Solutions has narrowed down the selection to focus on the most popular and highly regarded options that have consistently satisfied customers. In particular, we delve into the strengths and weaknesses of the two leading eCommerce platforms in the industry, namely Magento. By providing an in-depth analysis of these platforms, we aim to assist you in making an informed decision aligned with your specific business requirements.
Advantages of Magento
Magento is a highly popular eCommerce platform that empowers businesses to establish and manage their online stores. It offers a flexible and scalable solution that can be tailored to suit the specific requirements of each business. With a wide range of features and plugins, Magento caters to businesses of all sizes. Furthermore, as a part of Adobe, one of the largest software companies globally, Magento enjoys strong backing and resources for continuous development and support. Businesses can rely on Magento as a trusted and dependable platform to enhance their online presence. With its flexibility and scalability, Magento enables businesses to drive sales, boost revenues, and expand their online reach. It is a robust and feature-packed eCommerce platform that provides businesses with the tools they need to thrive in the online market.
Drawbacks of Magento
While Magento is a robust and feature-rich platform, it also has its share of drawbacks. One major disadvantage is the high cost of ownership, including setup and maintenance expenses, especially if you need specialised Magento expertise. Additionally, Magento can be resource-intensive and slow, affecting the loading speed of your website. Customization is often required for Magento to function optimally, which can further increase costs. Another concern is the potential impact of Adobe's ownership of Magento, which may lead to higher expenses and reduced control for users in the future. Due to these factors, Magento may not be the ideal eCommerce platform for every business.
At Evrig Solutions, we offer affordable management services for Magento stores. Feel free to reach out to us and request a quote to discuss your budget and how we can enhance or launch your business today!
Alternative eCommerce Platforms
There are additional eCommerce platforms worth considering that may not have the same level of popularity as Magento or Shopify. However, these platforms offer unique features that some users may prefer, such as WordPress plugins, forum integration, social media plugins, and more.
WooCommerce
WooCommerce is a plugin for WordPress that allows you to transform your WordPress website into an eCommerce store. It is well-liked because it provides extensive customization options by leveraging the capabilities of WordPress and integrates smoothly with other WordPress plugins. However, it is important to consider the costs associated with hosting and ongoing maintenance since it is a self-hosted solution. In summary, WooCommerce is a suitable choice if you are already using WordPress for your website or if you have the support of a developer to handle the technical aspects of running an online store.
BigCommerce
If you're in search of an eCommerce platform that can accommodate your business's growth, BigCommerce might be a suitable choice. It provides a comprehensive range of features and capabilities necessary for running a successful online store. It also includes advanced functionalities typically found in enterprise-level platforms, such as fraud protection and abandoned cart recovery. However, it's important to note that BigCommerce may have higher costs compared to other platforms, although they do offer discounts for annual plans.
Additional options among eCommerce platforms consist of OpenCart, PrestaShop, Zen Cart, and Ecwid.
Conclusion
Evrig Solutions is an exceptional choice for businesses seeking the best eCommerce website development company. With their extensive expertise and knowledge in eCommerce platforms, they can assist in identifying the most suitable platform for your company's specific needs. Evrig Solutions understands the importance of aligning business goals, budget, and website requirements when selecting an eCommerce platform. They prioritise offering complete control over the look and feel of the website, ensuring customization options are available. Furthermore, their commitment to excellent customer service ensures that any troubleshooting or support needs will be promptly addressed. While considering budget constraints, Evrig Solutions aims to deliver a comprehensive solution that meets both functional and financial requirements. By partnering with Evrig Solutions, businesses can benefit from their experience in optimising sales processes and enhancing the overall customer experience.