How To Build a Magento Website
August 26, 2022
Posted by:

Vijay Golani

Category:

Magento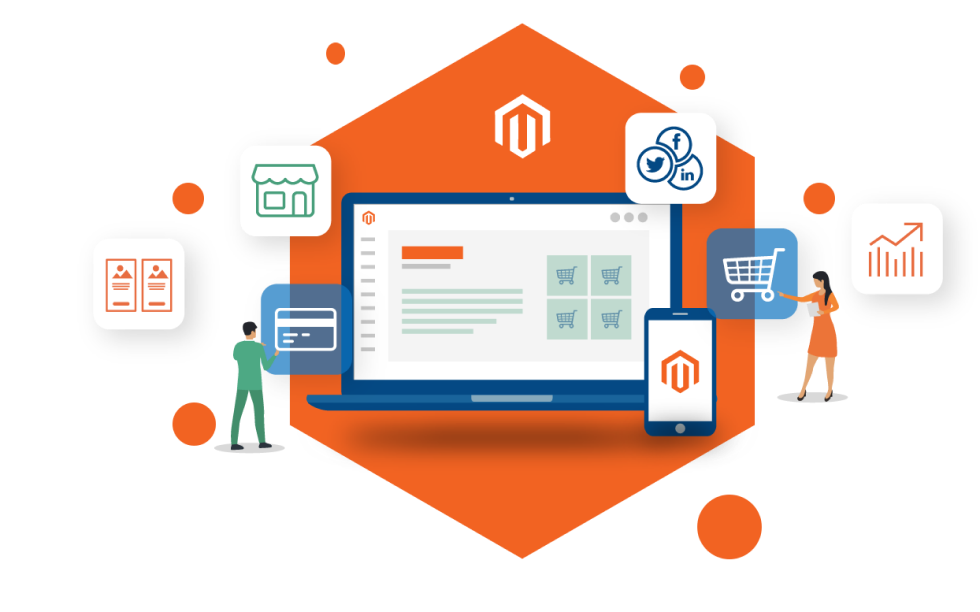 The prevalence of Internet access these days means that more and more people choose to do their shopping online. Finding the correct e-commerce platform to support your business needs can be difficult. However, if you have decided on Magento Website Development, you have really made a good decision. This article discusses the process to build a magento website and the top reasons to choose magento for your ecommerce store.  
Why Choose Magento for E-Commerce Development?
Magento stands out from other Content Management Systems (CMS) since it was developed with eCommerce in mind from the beginning. The platform includes crucial add-ons and features designed to meet specific company needs. Furthermore, the other top reasons for choosing Magento for  E-Commerce Development are: 
An Individualised Shopping Journey
Magento 2 is packed with cutting-edge technology that monitors shopper actions, assesses their tastes, and then presents them with relevant product recommendations and promotional offers.
Powerful Indexing and Searching Capabilities with Several Levels of Organisation
Magento 2's user-friendly interface and robust catalogue organisation, made possible by a plethora of add-ons, make shopping on the site a breeze.
A Better Checkout Experience
With Magento 2, purchasing is quicker and less complicated than ever before. Customers may now finish their orders in just 2 steps, down from the previous 6 required for the previous checkout process. Mageplaza's One Step Checkout, which lets customers complete transactions in a single page, is another way to boost conversions and delight customers.
Delivery and Purchases can Be Made in a Variety of Ways.
Magento 2 is compatible with virtually every shipping and payment method in use today. So there is no risk involved for buyers, they may shop freely.
Managing a Variety of Online Businesses, Websites, and Product views
If you're using Magento 2, you have the option of setting up several domains with only one Magento installation. You may set up different shops on the website itself. In a multilingual and multi currency online shop, each store view can be presented in its own language and currency. A well-defined structure like this can let you rapidly grow into new markets throughout the world.
Simple Inventory Control
Magento 2's automated import and export features make it easy to handle large catalogues while reducing administrative time spent doing so.
Instruments of Advertising and Promotion
In order to put marketing and advertising plans into action, a plethora of built-in and included tools are available. It's simple for admins to set up the cart price rule and implement various discount plans. There are a number of outlets available to business owners for promoting their wares.
Reporting and Analyses
The eCommerce platform has powerful tools for monitoring and analysing your store's statistics. Sales, page visits, conversion rates, abandonment rates, and everything else that matters is tracked. You may use this information to make the necessary modifications and increase your earnings.
Exceptional Efficiency
Magento 2 supports PHP 5.5, PHP 5.6, and PHP 7 by default. That's why this content management system makes the site so zippy. According to estimates, Magento 2 is 20% more successful than its predecessor.
Security
Not one of the pre-built platforms is foolproof. The same holds true for Magento 2. However, the security team behind Magento 2 is, however, confident in saying that they have already patched any known vulnerabilities. Moreover, you can reduce the security issues through hiring a magento development company. 
How to Build a Magento Website
1. Decide a Web Hosting and a Domain Name
The first step in installing Magento is choosing a hosting provider. Your domain name has an effect on how well known your brand is, where it ranks in search engine results, and how customers perceive your company. Choose your domain name carefully; it should be able to keep up with your company's rapid expansion.
2. Installation Preparation 
The first step in installing Magento is choosing a hosting provider. Your domain name has an effect on how well known your brand is, where it ranks in search engine results, and how customers perceive your company. Choose your domain name carefully; it should be able to keep up with your company's rapid expansion.
3. Assemble All Necessary Components
You may now begin setting up Magento by downloading the release files from the product page. The files needed to set up a Magento shop may be downloaded in several different ways, including via Composer, Git, or a zip/tar package; however, usually if you hire magento developers, they will recommend composer. 
4. Modify Your Magento Template Design
The success of every e-commerce venture depends on a user-friendly, visually appealing theme. The Magento marketplace has a wide variety of both free and commercial themes that meet the above criteria and more, including cross-browser compatibility, user- and SEO-friendliness, and support for several languages.  Hiring a Magento Development Company can also help you in developing a customised theme for your ecommerce store. 
5. Setup Shop Features and Extensions 
After you've got Magento's fundamentals set up, you'll want to beef up the features that really make a difference to your customers. Magento add-ons are perfect for this exact situation. No extensions are required, thus choosing them is entirely up to what your company requires. If you have a requirement specific to your store, you can always hire magento developers.  After doing so, all you need to do is import products. 
6. Make Changes to Other Parameters
You're almost done with your online shop if you've imported all product data and customised its look and feel. The last few steps are to customise payment  methods, set prices, and secure your website with SSL Certification. 
7. Go for a Test Launch
A test launch is something you have to do before you can breathe easy and open your store. Monitor your site's loading times and make any necessary adjustments to increase efficiency. Verify the theme's responsiveness and the code for any security flaws. Verify that your platform's installed add-ons do not cause any incompatibilities.
Conclusion
Magento 2 is a robust eCommerce platform that allows you to set up shop on the web with minimal effort and in a matter of hours. You will, however, need to make more of an effort to better your store on a daily basis. Hiring a Magento Development Company or consulting with Magento experts will also be a good option.